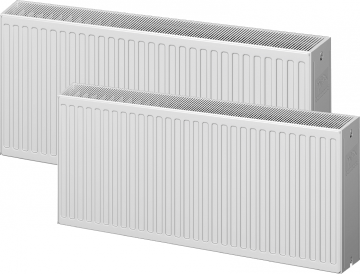 Use a convenient filter for the main parameters of heating radiators.
It will help you quickly select models with important characteristics for you.
Choose your color, emphasize the individuality of your design. Aesthetic appearance, compact dimensions and laconic design of LEMAX Premium radiators will suit any interior.
Steel panel radiators
Among a wide variety of modern radiators there are steel panel radiators - especially popular due to their versatility, high heat dissipation and affordable cost.
Panel radiator assembly
Heating panel
The main structural element of panel radiators is a heating panel welded from two corrugated sheets of steel. The sheets are joined together so that inside the panel special channels are formed, along which circulates the coolant. Depending on the type of radiator, it can contain one, two or three panels.
Convective panel
Heat transfer of radiators is increased by convective panels - additional surfaces designed to give heat off. These panels are made of light-gage sheet steel by stamping method. The obtained parts are welded to the heating panels. During the operation of the radiator, convection panels take heat from the panel, heat up the air between the fins, and direct it into the room. The presence of convective panels makes it possible to increase the heat transfer of the instruments. The radiator can have one, two or three convectors, but not more than the number of panels.
Side panels and grille
The radiator casing is closed on top by an air discharge grille, on the sides is equipped with decorative panels. These parts not only give radiators a complete look, but also facilitate their care.
Application
Steel panel radiators are the perfect choice for private houses heating and well match up with the boiler equipment Lemax . In an autonomous heating system, steel radiators reveal their advantages: high heat transfer and economy. Autonomous systems allow to ensure uniform pressure in the network and a high-quality heat-transfer agent, which increases the service life of panel radiators and makes their operation problem-free. It is possible to install this type of radiators in apartment buildings with centralized heating. LEMAX Premium radiators undergo a pressure test of 1.5 bar, which makes them resistant to hydraulic shock in a central heating system.
Advantages of steel panel radiators
Made of steel.
Yielding and light steel serves as an excellent material for radiators. Steel appliances are lighter and more affordable in comparison with bimetallic and cast iron ones. High heat capacity. Steel provides maximum heat capacity of radiators - this metal has a low inertia, quickly heats up and gives off heat. If it is necessary to cool the heating system, the steel also grows cool quickly.
Versatility.
Steel radiators are suitable for single-pipe and two-pipe heating systems, they can be used in low-rise buildings, private houses and cottages, as well as in apartment buildings.
Heat efficiency.
The design of the radiator panels allows to heat the room with a small volume of heat-transfer agent. Heat output, higher than that of cast iron and bimetallic alloys, makes it possible to significantly save the power of heating boilers.
Easy installation.
Due to the small weight of the radiators, their installation does not make any problem; the design in the form of a single unit does not involve the assembly of the radiator from the sections when installing it.
Compact, laconic design.
Panel radiators consist of corrugated panels and convectors hidden behind them. On the sides the radiators are equipped with decorative panels, radiators are covered with an air discharge grille on top. This makes the devices stylish, suitable for any interior - both home and office.
Choice of a radiator
Capacity calculation
The capacity of the radiators is the most important parameter, the heat and comfort in the rooms primarily depend on it. For a full calculation of the capacity will have to take into account a long series of conditions, but the overall calculation is not at all difficult. The capacity of the radiator must be equal to the required amount of heat, multiplied by the size of the room. A generally accepted norm for Russia is 41 watts per 1m
3
or an average of 100 watts per 1 meter
2
. Example: for a room of 18 m
2
with a flow height of 2.7 m you need to choose a radiator of18 x 2.7 x 41 = 1992 watts.
Note! Choose a more powerful radiator if:
the rooms are located on the first or last floors;
room has outerwalls;
room has large glass area.
In cases of increased heat loss, it is recommended to increase the capacity of the radiators by 10-15%.
Connection method
When choosing a radiator, it is important to determine which connection method suits you:
Side connection. Standard version, which allows to effectively use the capacity of the radiator. Suitable for apartment buildings and standard wiring.
Bottom connection. This modern method of connecting radiators allows you to mask the pipes of the heating system. Especially recommended for rooms with bottom pipe distribution and under floor heating.
LEMAX Premium radiators
Made in Russia
LEMAX manufacturing enterprise is located in Taganrog. The Company offers domestic radiators that are not inferior in quality to foreign versions, but are more affordable.
In addition:
radiators are made of steel produced by the best Russian manufacturers, they comply with Russian norms and are adapted for local heating systems.
Recommendation:
we recommend combining radiators with Lemax heating boilers for private households.
Production, materials
The quality of LEMAX Premium radiators is provided by the specific features of the production: the use of Italian equipment Leas, steel grade DC01 and grade 08YU and unique paint materials.
Range of radiators
The LEMAX Premium range of radiators makes it possible to equip heating rooms with rooms of all types and sizes. In the assortment of the brand you will find all possible combinations: radiators with one, two or three panels, with the number of convectors from one to three. Each type is available in two versions - with side or bottom connection.
Choose any of the 1469 LEMAX Premium radiator models!
Quality
The obligatory interoperational control of radiators (check of the sizes, quality of assemblage and absence of defects) is conducted at the enterprise; all radiators are pressure tested that exceeds working pressure one and a half time. The facilities comply with GOST 31311.
Availability
Original quality native LEMAX Premium radiators are easy to find in most regions of Russia and CIS countries. We are expanding the network of resellers at whom one can buy steel panel radiators at favorable prices and with customer-oriented service. Find the seller closest to you place among 50 LEMAX resellers.